National Certification Preparatory Program To Become A Certified Phlebotomist
This course is designed for individuals, interested in gaining further knowledge in Phlebotomy or Blood Collection.
A Phlebotomist generally works in a clinical laboratory under the supervision of an appropriate technologist. The Phlebotomist is primarily responsible for collecting blood specimens from patients for the purpose of laboratory analysis.
This is a 30 - 35 hour class and it will be focusing on teaching the principles and skills of Phlebotomy. General information will be given to each student regarding becoming certified by NATIONAL CERTIFICATION AGENCIES.

Course Objectives

1. Have a basic knowledge of Anatomy & Physiology
2. Equipment Knowledge
3. Venipuncture Procedures
4. Urinalysis Procedure
5. Infection Control & Blood Borne Pathogens
6. Safety & First Aid
7. OSHA Regulations
8. Specimen Documentation
9. Specimen Transportation
10. Special Procedure & Point of Care
11. Quality Management & Legal Issues

For more information please contact an HT&CC, Inc. representative today at (808) 843-2211.
Copyright 2014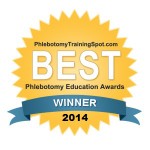 Please Click on & Read the PhlebotomyTrainingSpot.com press release recently made showing HT&CC. Inc.'s  Great Accomplishment: