"A Thing Of Spirit!"
Written by: Danilo Velasco, HT&CC, INC. CNA Graduate
Friends, ladies, and gentlemen, Good Evening.
Life is a challenge and a gift that we should accept.
It is a duty and a game to play. It is an opportunity and a song to sing. It's beautiful and also a promise that we must fulfill. We struggle but with a goal. But the most important value we consider is love. In our month long training as a greenhorn in the field of nursing, we now come to its culmination. This is not the end but we are still at the beginning of a challenging endeavor.
We share mixed feelings today, we believe in ourselves because we have accomplished something that is great. All the necessary skills and knowledge we have acquired in this training will be valued most as we perform our responsibilites as giver of love to our clients.
The collaborative efforts of our instructors and trainers will always be in our lives because they serve as instruments to do better as we care for our clients. All the cooperative principles we have gained will always guide us in our daily operation and can be sum up in one short statement, "A thing of spirit" and what better spirit to develop and focus on... than that of our clients.
To our trainers, we salute you for sharing us your expertise. This will be a precious gift and lifetime learning that we will treasure and share with utmost love and care. There is hope for our dreams to become realitites, it is because of the camaraderie and sincerity of each participant as manifested by their dedicated attendance and performance to this training. We have learned a lot and we say thank you with all our hearts.
As we enter a new phase of a career, we must pause and reflect on all the inherent power of caring on the infinite impact of our love and our moral imperative to make sure every patient has the joy of living.
Thank you and good luck and have a wonderful journey!
(Velasco May 2006)
A Letter of Thanks: Turning Dreams Into A Reality
Written by: Rick Callo, HT&CC, INC CNA Graduate
February 21, 2006
Dear Cionie,
I personally thank you and your staff at HTCC for doing an excellent job training in the healthcare industry. The programs you offer are very extensive that it will benefit the participants in their skills preparation for employment readiness anywhere in the Healthcare Field.
Back where I was five years ago with my previous job that I held for fourteen years as a waiter, I was living a life with no direction. I have goals but no ways I could achieve them. This is the reason I am writing to you this letter because HTCC had changed my life a whole new way and prepared me to shift to a better career where I now landed. Now I can say that I'm in the right track.
There's a lot of things that I can be proud of on my achievements in attending your program because when I took your Certified Nursing Assistance class all I wanted was to start a Foster Care Home business. Unfortunately, after I became a CNA, the Case Managers then won't hire me as a Caregiver because they require one year experience in an Acute Care Hospital before they can certify me as a Foster Care Home Provider so, all I did was to go and do Volunteer Work in an Acute Care Hospital but never thought of working in a hospital setting. The good thing is, before I even completed my 100 hours of volunteering, one of the hospital staff came and approached me if I wanted to work as a regular paid employee, opportunity opened up and I took the job as a call-in Nurse's Aide in the Float Pool Dept. and here I go, I'm in. I liked the Float Pool because I can be assigneed into any department and even though everything was totally new to me, I had a chance to learn things I never learned before. After sometime, I was able to start my Foster Care Home and got my two clients living with me and my family at home while I still keep my hospital job.
I now work in the Emergency Department as a Specialty Technician and I'm very thankful and proud that I am a product of your school, Healthcare Training & Career Consultants, The only State Approved Caregiver School in the island. Lastly, I wanted to tell everyone that you are the best. Keep up the good works. Thank you & Aloha!
Rick Callo
Waipahu Evening Class
November 2001
"My Thoughts & Feelings"
Written by: Debby Pronovost, HT&CC, INC. CNA Graduate
How I felt the last 3 days of working at the Clinical Site is difficult to put into mere words, as it usually is when talking about one's personal feelings, or matters that touch the heart.
The first word that comes to heart and mind is "Humble" ...as I empathized with those who's needs are much greater than my own. I am also "Amazed" that those faced with so many challenges, physically and mentally can still "smile" at the simplest of accomplishments.
The last three days have also reminded me of why I first fell in love and chose the Health Care Field... as my career of choice. The rewards you receive through the smiles, hugs & the stories "when you stop & listen long enough to Grandma or Grandpa talk about the Good old Days" is far more rewarding than any paycheck you receive at the end of the week.
Pride... I also felt pride, when kissing and tucking my resident/patient in bed for the night... knowing I did my absolute best in providing for his needs. I was able to go home at night and rest peacefully knowing I did my "job" thoroughly & professionally... with an understanding of the most basic quality I feel any care giver should possess ... a compassionate heart.
I also feel pride in knowing I was part of a caring team of classmates ...I've learned something from you all as well.
Last but Not Least... I feel gratitude for my teachers "past & present" for teaching me the neccessary skills... and sharing their wisdom... so that I may do my job "my career of choice" with... Compassion, Reliability, Dependability, Honesty, Patience, "while having a Positive Attitude, Following the Golden Rule (treating others how I want to be treated) and with Empathy... "But for the Grace of God, there Go I". In other words... That could be me in the bed... soiled & wet, sad & depressed... because I can not voice my wishes... nor can I take care of my own personal needs... such as going to the bathroom & wiping my own backside.
A special "Thank You" goes to my own Mother (My greatest teacher of all) who taught me the meaning of "But for the Grace of God go I" and what it truly means to be a Humanitarian!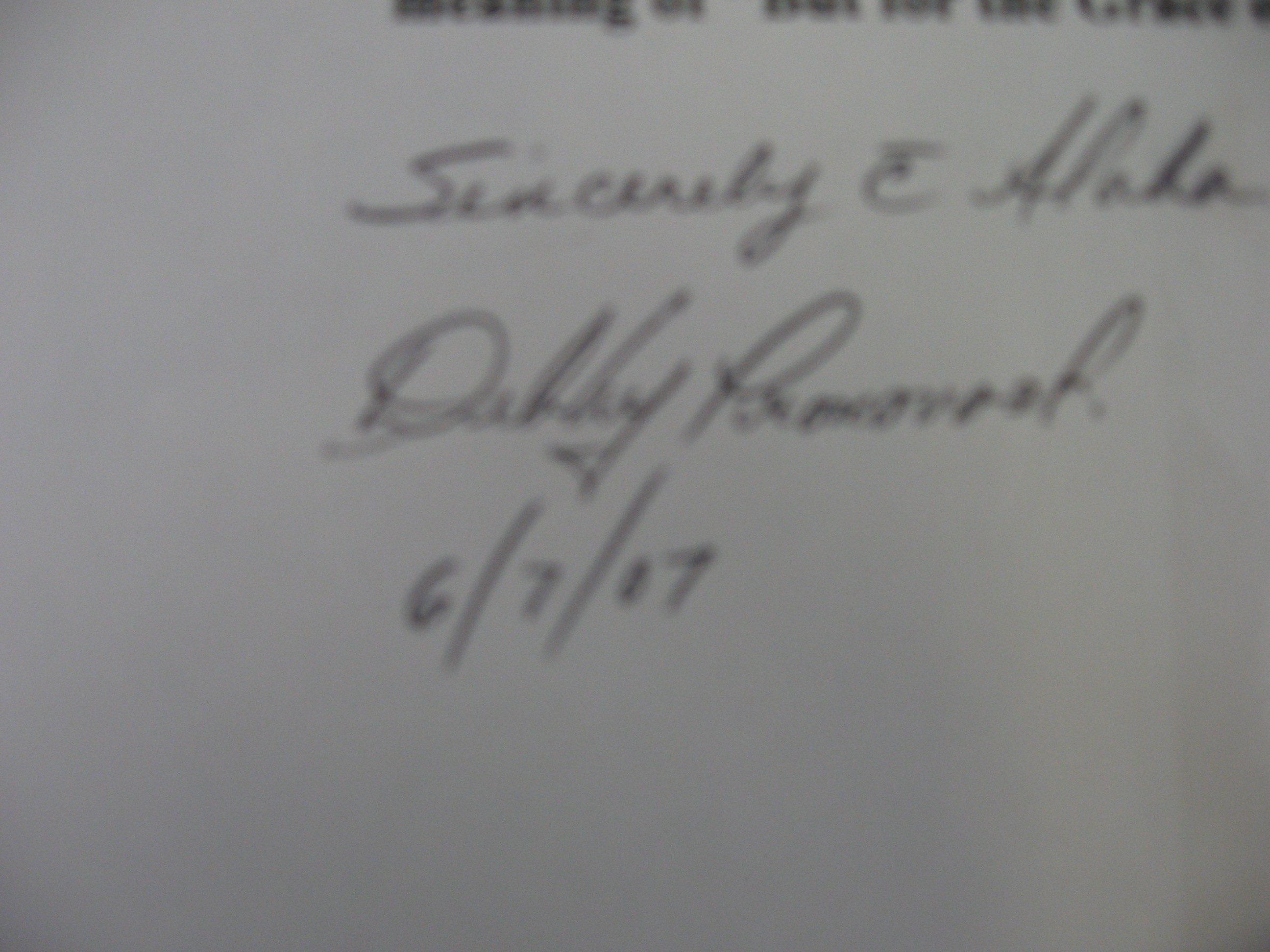 Sincerely & Aloha, Debby Pronovost 6/7/07